Yoybuy Member Privileges
Yoybuy members have different privileges depending on their customer level, the higher the membership level, the more privileges they have.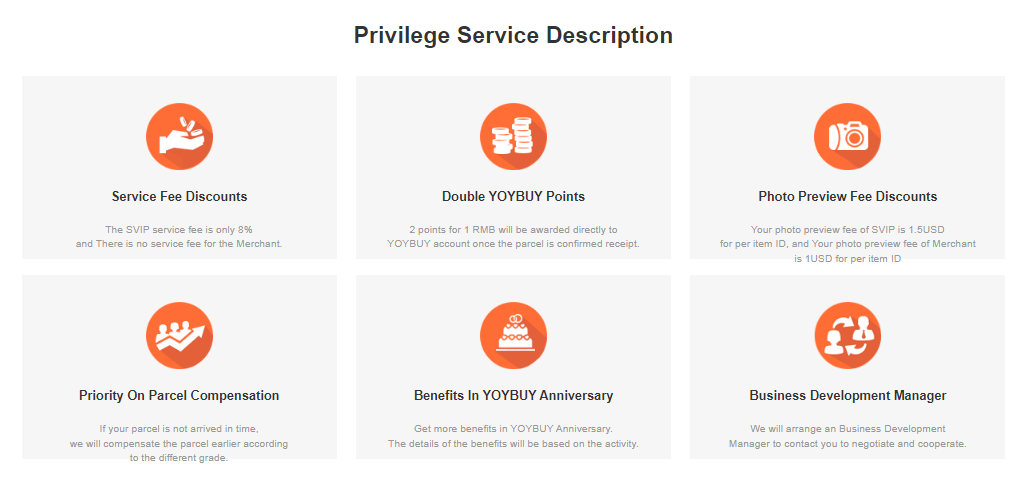 For a quick upgrade, Please contact:service@yoybuy.com
1 Newcomer Privileges
All new customers who successfully register as a Yoybuy member will receive 4 new customer coupons worth a total of 60USD, which you can check in your Yoybuy account – My Coupons.
The rules for using the coupons are as follows.
Coupon $6 for orders ≥ $40USD
Coupon $10 for orders ≥ $60
Coupon $14 for orders ≥ $75
Coupon 30USD for orders ≥ 200USD.
And only one coupon can be used per payment. Valid for 30 days.
2 Service fee discounts
Yoybuy service fee is 10%*(Items fee + domestic shipping fee);  
SVIP members will enjoy a discounted service fee of 8%*(Items fee + domestic shipping fee),
Merchant" enjoy 0$ service fee.
You may use E-coupon to deduct service fee. However, our minimum service fee is 35CNY per parcel; YOYBUY will still charge you 35CNY even if (item fee + domestic shipping) is less than 35CNY. 
3 Photo fee discounts
The photo fee varies according to the level of the customer.
YOYBUY Member and VIP—2USD/Item ID
SVIP—1.5USD/Item ID
Merchants—1USD/Item ID
The higher the level, the lower the cost.
4 Storage fee
As YOYBUY customer you can store your purchased items in our warehouse if you wish to ship them to different place. All YOYBUY members have a free storage period of 90 days. If your free storage time has run out and you still haven't shipped your items, YOYBUY will charge you storage fee of 0.164 USD per item, per day.
 
Note: YOYBUY's storage time limit is 180 days. We start to calculate the storage time when your item status changes to "Arrived," which lasts for 90 days. Then, your order status will change to "Storing" for the remaining 90 days. At the end of your 180 days, your order status will change to "Abandon." This means you have given up your items and will no longer be able to receive them.
 
Arrived (90 days) + Storing (90 days) = Abandon (180 days)