The Switch has spent almost three years since its release in March 2017. With the continuous development of the Switch in the domestic market, it is believed that more and more people will enter the pit.
The Switch game lineup is already quite rich. From the original "only Zelda's 4399" prejudice to the current masterpieces, in addition to the old first-party games, more and more third-party manufacturers have begun to work hard, transplanted and launched on the Switch platform Many fun games.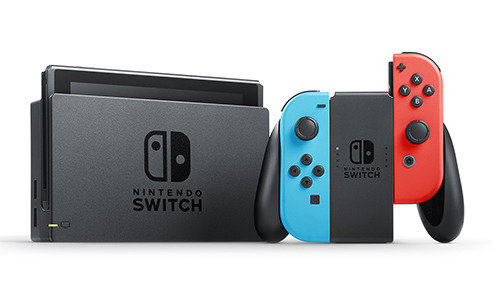 (https://item.taobao.com/item.htm?spm=a230r.1.14.13.72a22922svyHpo&id=545995410181&ns=1&abbucket=5#detail)
What games are required to play on the Switch platform? Come see our recommendation!
1.The Legend of Zelda: Breath of the Wild
Buy a console to see the game lineup, "Legend of Zelda: Breath of the Wild" as the most important game launched by the Switch console, once launched, it caused a huge wave in the game industry, and countless media have given it a perfect score. It also won the 2017 TGA Game of the Year without suspense. This game controls the fun of the open world to the extreme: the exquisite graphics and novel adventures make players feel like they are in a different world.
Whether you are a hardcore ACT enthusiast or a casual pensioner, as long as you like to play games, you will definitely find your own fun in this game. Many people joked that "buy more than 2,000" Zelda "to send to Switch". The gameplay of "Picnic" can no longer be described in words. Only after the player has played it personally can he appreciate its charm and charm.
As a big fan of the Zelda series, this game is undoubtedly close to perfect. No matter how gorgeous the words are, they can't describe any scenery inside. This game is definitely a game that you must buy after you buy a switch.
(https://item.taobao.com/item.htm?spm=a230r.1.14.19.459014d6i9gww0&id=562035496906&ns=1&abbucket=5#detail)
2.Xenoblade 2
"Xenoblade 2" is the best JRPG game on Switch, and there is no one. "XB2" may not be suitable for all players like "Zelda" and "Mario", but for JRPG lovers, this game is a well-deserved masterpiece.
The best thing about "XB2" is that its animation transition is the ultimate. Although the plot is slightly cliché, the excellent expressiveness in the cutscenes can still deeply move people's hearts-I will cry for the sentence "I'm sorry, Lex", and finally make a choice for the protagonist, so that "light" evolve Be excited by "Little Green". When Nia turned into a different blade for the first time to fight with the protagonist, "I like Nia, and everyone" also became a smiling stalk in the history of the game. According to the statistics of players, "XB2" has a full 24 hours of animation part.
Moreover, unlike the turn-based and instant action, the unique combat mechanism of "XB2" is also very novel. In "XB2", each different blade has exquisite standing painting, exclusive CV and side story, and each supporting character is also full of stories, waiting for players to explore.
(https://detail.tmall.com/item.htm?id=559278153779&ali_refid=a3_420434_1006:1123219006:N:9hsdPvSm7qlPv/f/D2ElQmi3U6IkuaNG:93e2f1977af9e8784870038e83eed1cf&ali_trackid=1_93e2f1977af9e8784870038e83eed1cf&spm=a230r.1.1957635.6&sku_properties=122216883:27889)
3.Super Mario: Odyssey
Nintendo has two classic representative characters: green hat and red hat. The green hat is Link in The Legend of Zelda, and the red hat is the protagonist of this game: Mario.
"Mario" is the first game that countless players have come into contact with, and "Odyssey" will bring "Mario" to a whole new level with the most advanced technology and standards. This game can be relaxed and casual, but also hardcore. If "The Breath of the Wild" is the representative of the open world, "Odyssey" is the president of the 3D box court exploration game.
In Odyssey, every country is full of fun. And the "flying cap" allows our Mario to be attached to different enemies and objects to perform different functions. The most important thing is that when players play the game attentively, they will often get the "little surprise" set by Nintendo in the scene. More than 80 BGMs, more than 50 attachable targets, more than 40 sets of clothing, and various souvenirs have greatly improved the game's playability.
(https://item.taobao.com/item.htm?spm=a230r.1.14.21.785511e0sFvsQE&id=554926035107&ns=1&abbucket=5#detail)
4.Mario Kart 8 Deluxe Edition
"Carriage 8 Deluxe Edition" is an enhanced version of the Wii U version of "Carriage 8". "Carriage 8" is the most fun racing game on the Switch, and many classic Nintendo characters and their iconic racing cars can be used. Players can also customize the tires and paragliders of the car to create the most suitable and cool car.
Although this game seems simple and easy, in fact, just like other "Mario" games, there is a hard core, and you need some practice to turn off the driving assistance to smoothly drift.
Of course, the most valuable point of this game is that this is a very suitable game for parties. The local supports up to 4 people online. Everyone can turn on driving assistance and use various props to make or break. It is easy to create a happy atmosphere.
If you like racing games, then "Carriage 8" can fully meet your needs.
(https://item.taobao.com/item.htm?spm=a230r.1.14.22.4178726b2AYbzs&id=546389696381&ns=1&abbucket=5#detail)
5.super smash bros ultimate
"super smash bros ultimate" is an action game launched by Nintendo this year. The gameplay is close to the fighting game, but the rules are completely different from the traditional fighting game. The two sides aim to fly it out of the field, and the blood bar restrictions no longer exist. The operation of "Big Chaos" is also very friendly to novices, and new players do not need to recite the "trick list" like an endorsement.
And one of the points that attracts players is the control of the details. The details of each map and each character are very well restored. When players see their favorite game characters constantly appear in the big chaos and use classic moves, the inner battle fire will be ignited. Put!
(https://detail.tmall.com/item.htm?id=598101248384&ali_refid=a3_430582_1006:1227570024:N:ml0tqMMbOMxEePJcZ77MoENJc4gXysuE:c8b7c82daedaae51c40410802aa31a81&ali_trackid=1_c8b7c82daedaae51c40410802aa31a81&spm=a230r.1.14.13&skuId=4168449020721)
6.Fire Emblem:Three houses
"Fire Emblem: Threehouses" is the latest work of "Fire Emblem", one of the three classic war games. Many changes have been made in Fenghuaxueyue. The biggest change is the addition of college life. In the colorful college life, players can experience the medieval style. Players can have tea with their favorite people, grow flowers, participate in contests, fish, and teach students.
There is also a sense of strategy in the battle. The change of perspective makes turn-based battles no longer a shriveled battle, coupled with a variety of careers, strategies, and cavalry regiments, which greatly enhances the fun of battle. The skill level and career choice can be determined by the player, which greatly enhances the sense of substitution of the game.
In short, "Fire Emblem: Fire Emblem:Three houses" is still an epic war strategy game, and it is worthy of winning the TGA "Best Strategy Award" and "Player Voice Award" in 2019 without any suspense.
(https://item.taobao.com/item.htm?spm=a230r.1.14.25.c7afe013kd6d3x&id=616259844791&ns=1&abbucket=5#detail)
We are Taobao agents in China which help worldwide people who want to buy items from www.taobao.com There are so many kinds of products in Taobao with cheaper prices and so many customers who buy cheap products from www.taobao.com via our service.
You can buy these monitors in a very convenient form through us.