Although the mobile phone can play music at any time, the sound quality of the music released by the speaker is better.
The three-dimensional sense of the speaker is stronger, and the feeling is better than playing music directly with the mobile phone.
Today, I will recommend three high-quality speakers for you, each of which is very distinctive.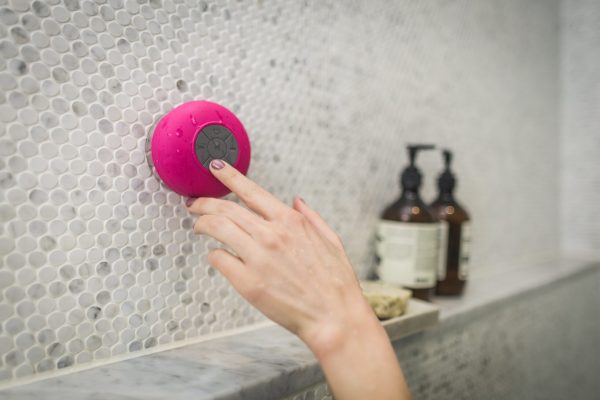 This speaker is a retro speaker, which is very popular at the moment. In terms of appearance, it is a very retro design, and the rotary button adjustment looks simple and elegant. Retro design can bring you back to fond memories.
This speaker is suitable for a variety of scenarios, meditation rest, background music, learning, and 360-degree high-fidelity sound quality.
In addition, it also has a one-key hands-free answering function. After connecting with the mobile phone via Bluetooth, the speaker can answer the phone hands-free on the speaker in any playback mode, which is very convenient.
If you are a person who likes retro speakers, this one is worth buying!
You can click the picture to get the purchase link.
Waterproof Bluetooth Speaker
This speaker, from its appearance, is very small and easy to carry. The speaker also comes with a gift sticker, you can choose any sticker to dress up, it will be cuter after dressing up.
In addition, this speaker is waterproof, so you can use it in the shower. The speakers have suction cups that can be attached to the wall.
Effectively prevent rain erosion, it can easily cope with various complex outdoor environments, allowing you to enjoy music time to the fullest.
If you are looking for a waterproof speaker, this one is perfect!
You can click the picture to get the purchase link.
The sound quality of this speaker is very good, with a 360-degree surround. Built-in MF radio, listening to a different life experience, not only listening to music but also increasing the fun of hearing, listening to various entertainment programs at any time.
This speaker is very distinctive. In addition to being a Bluetooth speaker, it is also a desktop clock and a wireless charger for mobile phones.
For its desktop clock function, you can set two alarm clocks at different times at the same time, dual alarm clock mode, get up, and snooze.
Its clock projection function is great, it can project the time to the ceiling and wall, clear without disturbing sleep, and the projection can be rotated 180 degrees. Three-speed screen brightness adjustment, more eye protection.
In addition, it also has a wireless smart charging function for mobile phones, and a built-in wireless fast charging module. Place your phone in the wireless charging area on the speaker to charge it.
It has a hands-free calling function, and a built-in microphone and the music is automatically paused when the power is turned off in the Bluetooth state. You can switch to the call mode with just one touch, and you can chat freely against the speaker without using a mobile phone.
You can click the picture to get the purchase link.
The above three speakers all have their characteristics, you can choose according to your own needs.
If you are interested in the above three kinds of speakers, you can click the above picture to enter the purchase page and place an order to buy.
If you want to buy at Taobao or 1688, you can also place an order through Yoybuy.
As one of the most trusted professional online shopping agents, Yoybuy provides customers with shopping and forwarding services.
Please contact us if you have any shopping or forwarding needs.
Share annual report, get 1000 points! Plus 200 points for each thumb-up or retweet! Contact us after 3 days of sharing with a screenshot to
Read More »
Игровой ноутбук новая модель В настоящее время репутация относительно хорошая. Какие рекомендуемые ноутбуки, на которых можно играть в игры?С точки зрения экономии стоит начать с
Read More »
Yoybuy New Storage Rules In order to optimise customers' item arrival turnaround, Yoybuy has implemented new warehousing rules as of 9th January. The new warehousing
Read More »