The cold winter passed, and the prosperous spring came.
Do you also want to get away from the smog and noise of the city, avoid the crowds and electronic leisure time, and camp out in the mountains with a few friends and talk over a campfire?
Once in a lifetime, you should take a trip to see the most beautiful nature. It makes you look up at the starry sky at night and wake up to the sound of birds and flowers.
What are you waiting for? Pack your bags, get out of here, have fun.
Then, let me recommend the following precious items to you.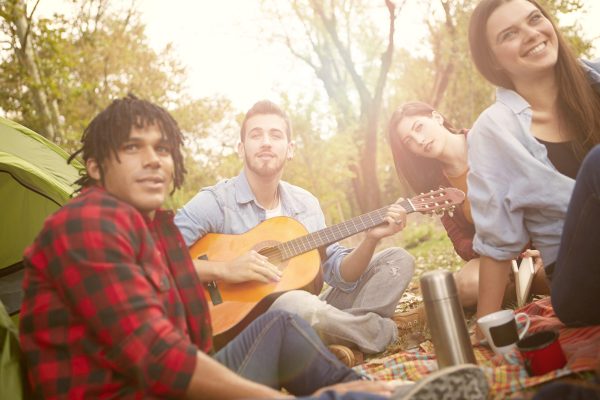 First of all, tents are generally used for family travel, and the interior space of this tent is also larger. It also has the design of double doors and windows, which can circulate ventilation and enhance the comfort of the tent.
Second, most families who go camping in tents are not professional outdoors. So tents that are easy to build or fold up are more suitable for ordinary families.
This tent is not only easy to operate but also wind and rain-proof, providing you with convenient camping while also increasing security.
Finally, Why not choose one that is easy to use, comfortable and can provide shelter for families?
You can click the picture to get the purchase link.
When it is time to eat, do you really want to slow down and have a good meal?
Because, for people traveling, barbecue is a very fun thing, so, an outdoor barbecue grill is indispensable.
First, the grills burn more fuel. Because its carbon bed is strong and resistant to high temperatures, and it uses several times more steel wire than ordinary carbon beds.
Secondly, the furnace body with stainless steel handle is convenient to move in half and be folded.
In addition, the all-stainless steel furnace body is equipped with a thick frame, durable and not easy to deform.
You can click the picture to get the purchase link.
Storage has always been a part of camping. A great thing to store outdoors and share with you here.
To make the camp look nice during your camping trip, you'll need to reorganize and tidy up some of the clutter once it's built.
For example, desk bags, small and large carry-on bags, pet supplies, etc. After the delivery, the camper can stop to rest, it will be responsible for storing our debris into a very safe and beautiful storage container.
Not only that, the camper has a carrying capacity of at least 80kg, which is good for carrying and providing stable support for the baby while we enjoy a quiet dinner every time.
It's the perfect thing to go camping with.
You can click the picture to get the purchase link.
The outdoor swing hammock allows you to relax in the leisurely afternoon and enjoy a slow life.
This hammock adopts the anti-rollover crescent-shaped design to achieve the effect of tightening on both sides, which can effectively prevent accidental rollover.
Thickened fabric design can effectively enhance bearing capacity and air permeability. Intimate design for your comfortable experience escort.
In addition, I sometimes go out to play on weekends, especially with the old people, the old people are tired after a long time. Hanging a hammock is a lot easier than finding the right place.
Imagine swinging leisurely in your hammock, feeling the cool wind as you slowly fall asleep.
What a comfortable experience!
You can click the picture to get the purchase link.
Celestron Double Barrel Telescope
Ruggedness, ease of use, and excellent optical quality are essential for the ideal outdoor telescope.
The telescope has a high-density sealed lens and is filled with nitrogen to keep dust out, even if it accidentally falls into the water.
In addition, the mirror body of the telescope is made of high-strength metal and is surrounded by a thick layer of rubber to cushion the impact. This is a good precaution. In addition to damping, rubber can also play a role in preventing slip.
The resolution of the telescope can be guaranteed. In addition, the telescope is coated: this coating makes the lens almost invisible.
When you come across a rare sight while camping, do you slowly and carefully take your binoculars out of your backpack? The answer is no. It's when you whip out your telescope and see something amazing that you realize the value of a good telescope.
You can click the picture to get the purchase link.
The above good things are good choices for people who travel in the spring, and you can choose according to your needs.
Quietly tell you~
These goods are on Taobao, if you want to buy from China, please contact us. Welcome to consult at any time.
Thanks for your reading.
Dear Customers, As payments in China are made in RMB. To facilitate your purchase and shipping, Yoybuy has changed the display of all fees on
Read More »
KCE & CDEK Russia Shipping Rate Reduction Notice In order to help reduce the losses of Russian customers due to the war between Russia and
Read More »
Dear Customers, As payments in China are made in RMB. To facilitate your purchase and shipping, Yoybuy has changed the display of all fees on
Read More »